2011
02.06
5'10 x 20″ x 2 1/2″ for Rory Duff of Cork. Flat and straight, quad. Fin position is derived from the bobsled and adapted to allow for the reduced tail area on this board. I liked this one – it felt like it was going to be a fun ride.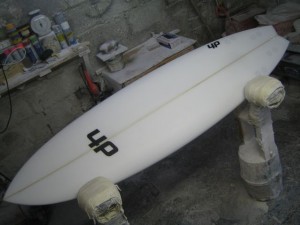 6'4 x 19 5/8″ x 2 5/8″ for Shirley. Shirley absolutely rips on his 'sled and this board was designed to provide him with that ride feel translated into something that would fly on a bigger canvas.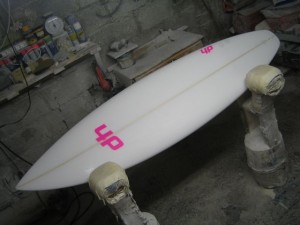 6'2 x 18 3/8″ x 2 1/4″ for Cian. A re-creation of a board I made for Johnny Smith a couple of years ago. I think this is the lightest board I have made. (4+4)+4+patches came in at 2.5kg without fins. I'm pleased that Cian went the flouro – virgin territory!
5'10 x 20 7/8″ x 2 1/2″ Bob of Sled for Jamie.