2011
09.22
It has been a while, but I've squeezed in a couple of boards for myself lately. I've been using my own rides to try a few new things such as resin tints, Future Fins and fresh shapes and fin positions. This is the first of them.
5'11 x 19 3/8″ x 2 5/16″. (4+4)+4 = 2.7kg. This quad was designed to fill in some of the gaps in my Bobsled's performance sphere. It is more compact and generally less girthy all round and I was intending extra 'attack' in the pocket at the possible loss of glide and down the line speed. Sea trails yesterday at a blustery down-the-line point – backhand – were good once I'd dialed the sweet-spot. Felt real tight and drivey. I think it is going to be great in clean conditions.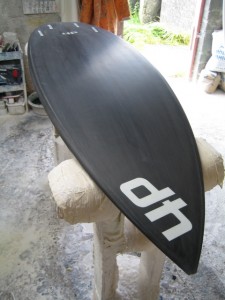 Matt finish, black tint on the base onto clear deck with a blue acrylic pin line were 'interesting' on the blood pressure, but turned out ok.
Future fins on this one is a first for me. They feel great and look strong as a product and the range isn't too overwhelmingly confusing – now available on all DH boards on request. Definitely worth the extra effort on this board.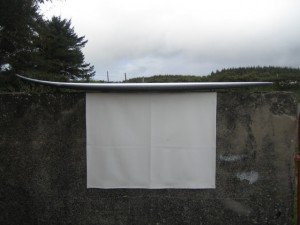 Kinda flat in and out, like el Bobsled.