2014
12.26
A couple of weeks ago I started making myself a replacement for the original bobsled, as it had been five years since the first incarnation. I got distracted by the lines and decided to try something new, something that I'd been flipping over in my head for a while. So, slightly less tail area, less fin number and bias but the same clean rail line:
5'10 x 20 1/2″ x 2 1/2″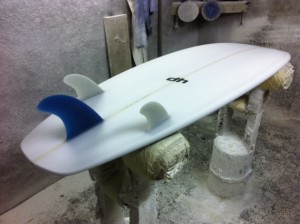 Custom fins: 6 1/8″ and 4 1/4″ height. Might have put them a little far back but I really wanted them glassed on so I'd adapt and not spend my time constantly changing them around. Board has that familiar area based 'sled feel, paddling and highlining, but on the rail its far less tracky and with three, albeit unmatched, fins it wants to bleed speed through top turns which is just what I was hoping for.
On speed, there might not be the aggressive race arcing of the quad on the original 'sled, but you get a kind of 'invisible hand' burst through the pocket of a well shaped wave, which is almost more gratifying.
Pray for point surf…